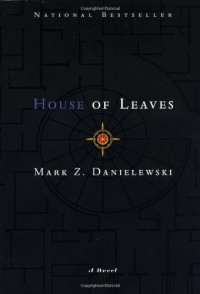 I've been sitting on this review for a couple weeks and I'm still not sure how to do it. Mark Z. Danielewski's House of Leaves in a seminal piece of experimental literature, and is probably the best known book of its kind.
House of Leaves experiments not only with authorship and story structure, but also with the verisimilitude of text and visual images (and so much more). The novel is jam-packed with references to literature, history, photography, academia and, to some extent, parodies the way that we impose meaning onto written text and photographs.
It is extremely hard to summarizes all that is brought together in this text, and it truly is a gold mine for thesis topics for English lit students. However, I think it has immense value outside of an academic setting. It's a difficult book, but an extremely rewarding one as well.
In the simplest terms possible, this is a book about a man who finds the unpublished novel of his friend's neighbour and works to publish it, while incorporating footnotes on his own life and personal response to the text, which is called The Navidson Record. The Navidson Record recounts the story of a photojournalist, Will Navidson, and his family as
they adjust to living in a new house in the country; however, this house operates in a unique and terrifying way.
I would recommend this book to anyone willing to undergo a challenge. The House of Leaves has a super interesting premise and the way that the novel is formatted makes the reading experience unique, engaging, and an experience onto itself.
Happy Reading!